---
Category A (Motorcycle) is divided into A1, A2 and A:
At 16 have access to the A1. You can ride motorcycles up to 125cc and 11kw.
At 18 have access to the A2 which allows driving motorcycles up to 35kw and weight / power up to 0.2 kW / kg.
At age 24 have access to category A if not has acquired by the anterior approach. If you purchased the A2 to two years also have access to purchase category A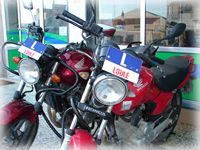 Motorcycles available:
Suzuki 600cc with 4t,5 engine speeds and 25kw of power. Yamaha MT 07 with 4 T engine 6 speed digital dashboard with led display.
A1
A2
A
---
Category B (Light) allows you to drive:
Cars or vehicle combinations of passenger car and gross trailer weight up to 750 kg or, higher than, a gross weight not exceeding 3500 kg set can not, in this case, the gross trailer weight exceeds the unladen mass of the towing vehicle.
Cars available:
Toyota Yaris cars equipped with 6-speed manual transmission, air conditioning, ABS, seats and steering wheel adjustable in height.