---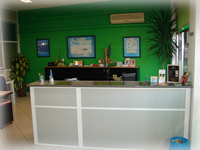 Welcome to Driving School and Almancil Training.
Come attend our school, we have an area of ​​nice facilities and qualified staff reflecting why the satisfaction of all our students, emphasizing the spirit of the whole school where the success rate is high.
The Driving School and Almancil Training has as a fundamental principle to customer satisfaction, offering a complete service based on quality, credibility, accuracy, effectiveness of the classes.
The appreciation of his teaching also takes the proven experience of its leaders and especially the unconditional support in the form and enhancement of education in the field of road Education.
Recently remodeled, this school has the best teaching conditions, with the most advanced technology designed for driving instruction; are proof of that:
The lectures in virtual room with control panel for demonstration traffic situations
Study rooms equipped with computers for multimedia tests